TANZANIA: Fr Gallus Marandu, TEC Pastoral Coordinator laid to rest
Uncategorized
April 11, 2017,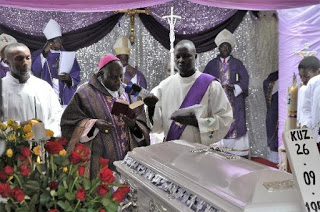 Hundred of people gathered at Usa Holy Ghost Fathers' Junior Seminary on Friday 31 to bid farewell to the late Rev. Fr. Gallus Marandu CSSP,  former TEC Pastoral Coordinator who passed away on Sunday 26 March this year.
In his homily during the funeral Mass, Rt. Rev Rogatus Kimaryo, Bishop of Same Diocese, said that Fr. Gallus will be remembered not only by Catholics alone but by people of other religions because he worked in close collaborations with leaders of different faith groups.
"He was very keen on building relationships with other faith groups hence ensuring unity among all people. For sure the Secretariat and the conference we will miss him," he said.
Bishop Kimaryo said that Fr Gallus was among the key people who were behind the preparation of 150 years of Christianity in Tanzania Mainland and was very instrumental in collecting historical information which will be showcased during the anniversary. It is therefore very unfortunate that he will not realize his wishes of celebrating the anniversary.
The funeral Mass was attended by six Bishops of Tanzania, Representatives from various Dioceses as well as Religious Congregations and partners.
On Wednesday 28, Tanzania Episcopal Conference Secretariat bid farewell to the late Fr Marandu. During the Holy Mass, the President of Conference Rt. Rev. Tarcisius Ngalalekumtwa,  Bishop of Iringa said that the Catholic Church has lost a vibrant and responsible priest who was creative in serving the church.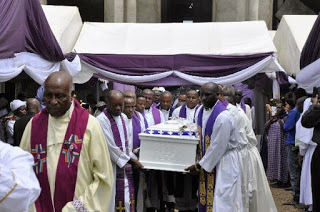 "In his life, Fr Marandu was a hard-working and  efficient. Over the 16 years he worked at TEC, Fr Marandu has left visible fruit to the community. One of his major achievements was his ability to unite people of various religions to promote peace and negotiation for better understanding. That is why today among us in this Church we have Muslims, Hindus, and Pentecost Churches members etc. This is the result of Fr. Gallus efforts," Bishop Ngalalekumtwa said.The Secretary General of TEC Father Raymond Saba said that the Secretariat received the death
of Fr. Gallus Marandu with great sorrow because he has been a good and effective person to the secretariat. "The Family of God in Tanzania has received this tragedy with heavy grief, sorrow and faith in the will of God to His servant Fr. Gallus Marandu who was doing his mission at the Secretariat from 2001 till 2016.
He condoled the Catholic Bishops, the staff of the secretariat, his parents, family and friends, the Holy Spirit Fathers and the family of God in Tanzania Church for losing a good and faithful servant who was still needed in the community.
End
By AMECEA Online Correspondent, Arusha and Sarah Pelaji, Dar es Salaam