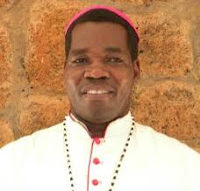 SOUTH SUDAN: SCBC President urges elders of Bahr el Ghazal to work together for peace in Wau
AMECEA NEWS
April 11, 2017,
President of SCBC Rt Rev Eduardo Hiiboro Kussala has urged elders of Bahr El Ghazal to work together in order to bring peace to Wau through inclusive dialogue and respect for all.
Bishop Eduardo Kussala, in his open letter of hope, calls on the elders to honour Bishop Rudolf Deng Majak with the reconstruction, reconciliation and reintegration of South Sudan.
He advised the elders to pay tribute to Bishop Rudolf Deng by being ambassadors for peace in Wau, Bahr el Ghazal and South Sudan at large.
Bishop Hiiboro appealed to elders to recognize the urgency and seriousness of the critical situation in the historical city of Wau.
The SCBC President pointed out that the hatred and suffering he witnessed during the burial of the late Bishop Deng Majak in Wau two weeks ago brought him into uncontrollable tears.
The Bishop narrated that in Wau he saw "death, hatred, hunger, huge displacement, intolerance and devastated infrastructures, senseless killing and disarray."
In a related development, Bishop Hiiboro presided over Eucharistic celebration on last Thursday in Yambio to mark  one month since the death of Bishop Deng Majak, Bishop of Wau.
Tombura/Yambio Diocese also collected money for helping the IDPs in Wau. The late Bishop Rudolf Deng Majak passed away in Cologne, Germany on March 6, 2017.
Source: CRN