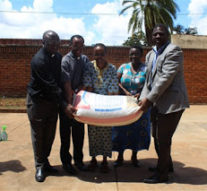 MALAWI: Catholic Secretariat Staff donate food to street children
AMECEA NEWS
April 11, 2017,
As one way of responding to the three pillars of Lenten Observance , on Thursday Staff members of the Catholic Secretariat of the Episcopal Conference of Malawi (ECM) took off their busy schedule and cheered children living at Tikondane Care for Children Centre in Lilongwe.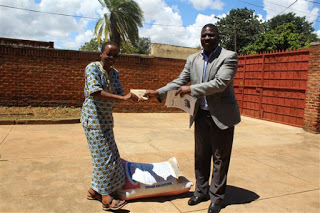 During the visit, the Staff members celebrated mass with the children and donated assorted items such as a refrigerator, bags of maize, beans, rice and bales of sugar, all worthy over K800,000 (about USD 1100)
"During Lenten period, Catholics strive to observe fasting, leave a prayerful life and at the same time share a little something with the needy. It is for this reason that we, Staff Member of the Catholic Secretariat decided to come here and of course fulfill two of our obligations as Catholic which are praying and sharing" said Fr. Regis Kamera, Deputy Secretary General of ECM.
Fr Kamera, who is also the Director of Pastoral Commission acknowledged the numerous challenges faced by the center and encouraged the Staff members to continue looking after the children from the Centre. He urged the Staff Members to always love and care for them because they represent the future leaders of the Church and the nation at large.
Earlier, Fr. Godino Phokoso , the national communications and research secretary  who was the main celebrant stressed on the need to value life for it is a gift from God.
He said children including those in the streets and orphans ought to be protected as they also depict the image of God.
On her part, Sister Anna Massawe, Projects Coordinator for the center commended the Catholic Secretariat's members of staff for their donation which she said was timely because the center is facing a lot of problems.
She challenged other well-wishers including individuals, private and public sectors to emulate the good gesture as demonstrated by members of Catholic Secretariat.
"Let me sincerely thank you all for thinking about our children here. You may wish to know that this is a street children's transit center where we keep children on a daily basis before we send them to schools and various house hence face a lot of challenges," said Sister Massawe.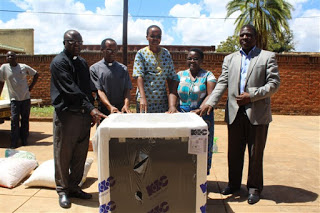 Tikondane Care for Children in/off the Streets (TCCS) is a faith based organisation which was started in 1997 by the Missionary Sisters of Our Lady of Africa (MSOLA) in collaboration with the Catholic Archdiocese of Lilongwe.
The center was established with an aim of protecting children from the dangers of living on the streets and among the projects being implemented include street outreach and educational support.
∽End∽