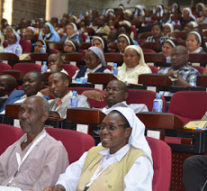 KENYAN: Government applauds Church for partnership in Education
AMECEA NEWS
March 20, 2017,
The Kenyan Government has expressed its gratitude to the Catholic Church on her endless efforts in providing holistic and quality education to Kenyan children in more than 1,500 private and catholic sponsored national schools.
Speaking during the annual Catholic Private Institutions Association Conference on 9th, March, 2017, the Cabinet Secretary in the Ministry of Education Dr. Fred Matiang'i said, Kenya is a blessed country because the Church started investing heavily in the schools way before independence laying a firm foundation for the education sector.
Matiang'i promised that the Government is willing to continue the principle partnership with the Church in provision of education in the country, revealing readiness to be a worthwhile partner who will work constantly with the church and respond to the issues that are raised about the education saying, they are pertinent to planning and consideration on how to move the sector forward.
He said that, most of the success stories are realized in church sponsored institutions due to focus, commitment and dedication given to education by school principals and the teachers.
"There is something very common and distinctive in Catholic Schools. Every time I walk into a school headed by a Sister or a Priest, I find the level of focus and dedication amazing. School workers spend enough time with the children and you can see clearly that there is a different learning environment in those particular schools." He said
Matiang'i said that education of the Kenyan children is core to the survival of the nation urging all the players in education sector to bring up children responsibly for the continuity of the nation.
The one week Catholic Private Institutions Association Conference held at the Catholic University of Eastern Africa (CUEA), was organized by the Kenya Conference of Catholic Bishops (KCCB) – Commission for Education and Religious Education under the leadership of Nakuru Bishop Rt. Rev. Maurice Muhatia.
∽End∽
By Rose Achiego, Waumini Communications KCCB