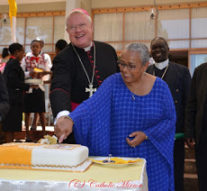 KENYA: Embrace dialogue during campaigns
AMECEA NEWS
March 20, 2017,
The people of Kenya have been reminded to elect men and women who, among other things, will use dialogue in campaigning for votes, practice self-respect and treat other people's ideas with due consideration and respect different opinions.
Speaking at his residence during the ceremony to mark Pope Francis fourth anniversary since his election as the Pontiff, the Apostolic Nuncio to Kenya and South Sudan His Excellency Charles Daniel Balvo said, Pope Francis encourages dialogue even in the most difficult of situations adding that, this is born from an attitude of respect for the other person and from a conviction that the other person has something good to say.
"Pope Francis' wish is that, dialogue should help to build bridges between all peoples, in such a way that everyone can see in the other not an enemy, not a rival, but a brother or sister to be welcomed and embraced." Archbishop Balvo said
Speaking at the same time, the Chairman of the Kenya Conference of Catholic Bishops (KCCB) and the Bishop of Homabay Rt. Rev. Philip Anyolo also highlighted The Holy Father's memorable sentiments on human life and solidarity with the poor.
"My view on the Holy Father's messages is that humanity should be embraced by all. It is the single most tenet of valuable life. When humanity wins a battle, liberty naturally manifests." Bishop Anyolo said
Bishop Anyolo who appreciated Popes love for Kenya, invited the people gathered at the ceremony to pray for the Holy Father, that God may Grant him good health and wisdom to guide the Church here on earth and guide efforts of mankind to make all human life better.
The celebration which took place on 13th, March, 2017, was graced by all Kenyan Bishops, Kenya's first lady Her Excellency Margaret Kenyatta, government officials, diplomats, the clergy and religious and representatives from Non-Governmental Organizations (NGOs)
∽End∽
By Rose Achiego