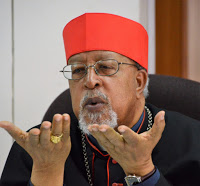 ETHIOPIA: AMECEA Chairman appeals for Prayers for Peace in South Sudan
AMECEA NEWS
March 14, 2017,
The Chairman of the Association of Member Episcopal Conferences in Eastern Africa (AMECEA), His Eminence Berhaneyesus Cardinal D. Souraphiel, of Addis Ababa  Ethiopia has asked for prayers for peace in South Sudan and other countries in the AMECEA region.
Speaking on Saturday March 11, during the closing ceremony of the Resource Mobilization workshop that was organized by AMECEA from March 9 for the Pastoral coordinators,  Communication coordinators and other Catholic media practitioners from the AMECEA region, in Addis Ababa, Cardinal Souraphiel said that Catholic Faithful in  the region  to pray for two Countries South Sudan and Somalia. "These two countries really need our prayers," he said.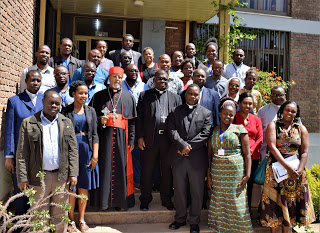 He said that AMECEA instituted the Solidarity Commission which is already at work. "Some members of the Commission already visited  South Sudan to meet and discuss with various Church and Government leaders on peace building," he said adding that "Sometimes back before South Sudan gained their independence, we sent a delegation led by His Eminence Polycarp Cardinal Pengo of Tanzania to the Diocese of Rumbek to meet with both representatives from the government and Catholic Church leaders. When they (S. Sudan) gained independence we also sent another delegation to show our solidarity. Unfortunately two years later they are experiencing war again," Cardinal Berhaneyesus explained.
He added that independence means handwork, expressing brotherly and sisterly love to one another especially for the sake of the future generation. "Currently South Sudan is the only African country with the highest numbers of refugees in the region. Thus, we should pray for them tirelessly," he said.