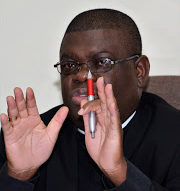 AMECEA: 'Skills on Resource Mobilisation are Vital for Sustainable Development of the Church' – Bishop Kasonde
AMECEA NEWS
March 14, 2017,
The Chairperson of AMECEA Social communication Bishop Charles Kasonde has acknowledged that resource mobilisation is critical to sustainable development of the Church in the region.
Speaking when he opened a joint Resource Mobilisation workshop for AMECEA region Pastoral Coordinators and Social Communicators in Addis Ababa, Bishop Kasonde said that the Project management and proposal writing skills workshop is very vital now for pastoral agents in order to make them access funds from partners that will support Church activities.
Bishop Kasonde who is also the Bishop of Solwezi – Zambia further noted that effective implementation, accountability and timely reports are sure ways of attaining sustainable relationships with the partners while also  creating more opportunities of being funded for future endeavours.
"Basing ourselves on the objectives of AMECEA, such as practicing the spirit of collaboration and sharing among its members; maintain a spirit of liaison and promote mutual relations among its members, it is my wish that the training will enhance working efficiency and build up new spirit with our partners in the region," he said.
Speaking at the same function, the Secretary General of the Ethiopia Catholic Secretariat Rev Abba Hagos Hayish appreciated that the Resource Mobilisation workshop was timely to ensure more successful project proposals so that more services can be offered to humanity.
"Catholic Church is the minority population in the country, yet it is the leading institution in offering social services to more than 50 million people with our limited resources we have," he said.
By Sarah Pelaji and Mwenya Mukuka in Ethiopia