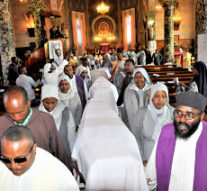 ETHIOPIA: Catholic Church Mourns the Death of 4 Religious Sisters
AMECEA NEWS
March 14, 2017,
The Catholic Church in Ethiopia is mourning the tragic death of four nuns in road accident on March 7, 2017 on the highway Addis Ababa to Hawasa.
Speaking at the requiem Mass on March 9, H.E . Berhaneyesus D. Cardinal Souraphiel, C.M., Metropolitan Archbishop of Addis Ababa expressed the grief the Catholic Church in Ethiopia is experiencing adding that the nuns were actively involved in Pastoral and Social Ministries serving the society.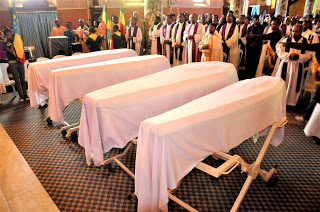 He said that the Catholic Church in Ethiopia and the Daughters of St. Anne are consoled by the outpouring of love that has been shown through the expression of love for the sisters by the people they were serving and know they lived their lives fully dedicated to their vows. "When the accident first happened it was the community around the area who first came to their aid of those who survived and mourned the death of those who passed away, for they immediately recognized the Daughters of St. Anne, who have been with the surrounding community for years through their veils," said the Cardinal.
His Eminence thanked the people of Ethiopia, Partners, AMECEA Bishops who were represented by Rt Rev Phillip Anyolo, Bishop of Homa Bay-Kenya and Bishop Chair of AMECEA Pastoral department and friends of the Catholic Church who consoled the Church during that difficult time.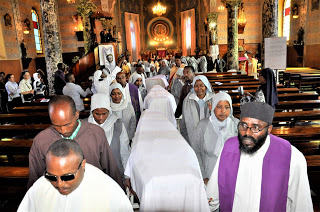 The 4 sisters from the congregation of Daughters of St Anne include Sr. Woyneshet Ghebru, who was the Provicial Superior of the religious congregation, Sr. Motu Baba, Sr. Ghidena Woldu and Sr. Hanna Bakena were on their way to a funeral of the mother of  one of their members whenthe accident occurred. Four other nuns and the driver survived the accident.
The incident happened barely two weeks after H. E. Cardinal Berhaneyesus expressed his concerns about the number of car accidents happening in the country that claim many lives as he appealed to the Faithful to make special Prayer intention during Lenten season.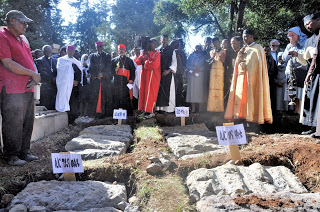 He said that car accidents are becoming main cause of losing lives in Ethiopia. He urged the Faithful to pray for the souls of those who have lost their lives in the accidents.
Some interviews conducted by AMECEA Online News in Addis Ababa, recently found that the rising number of car accidents in the country has been mainly caused by the reckless driving and hiring of inexperienced truck drivers, especially by construction company.
May the Souls of these Faithful Departed Rest in Peace. Amen