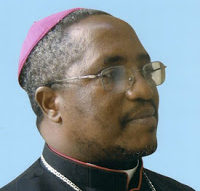 TANZANIA: 'Adhere to Professional Advice in Treating Diseases' – Archbishop Ruwai'chi
Uncategorized
February 17, 2017,
The Archbishop of Mwanza, Most Rev Judah Thadei Ruwai'chi has warned Christians who prefer looking for healing miracles from Pastors instead of seeking medical care from health facilities.
Archbishop Ruwai'chi said this during Holy Mass to commemorate the International Day of the Sick at Bugando Referral Hospital in Mwanza.
He decried the many advertisements on both print and electronic of pastors who lure people to go to them for miracles.  He asked Catholics who have gotten involved with these pastors to reflect deeply on their actions.
The Archbishop wished Christians to seek medical attention from qualified doctors while praying.  He also called for physicians, nurses and those responsible for caring to the patients to do their service with hearts of readiness to listen sincerely and treat them as their ethics requires, without which, patients will go where they believe they will be healed.
"Doctors should not treat patients with bad attitude and see them as burden, treat them with love and care for you have holy vocation from God," he said adding, "It is your obligation to protect and support human life."
On the other hand, the cancer specialist of Bugando Referral Hospital, Mwanza Dr. Nestory Masalu said that the prevalence of chronic diseases in the country is being increased by non-adherence to prescribed drugs.  He encouraged people to undertake regular checkups so that they may benefit from early diagnosis of chronic diseases.
"There has been little understanding of chronic and non-communicable diseases. Many people have been using other alternative treatments, or entrusted with the confidence that they will recover and leave hospital medications. As a result, the patient comes to the hospital with a very grave situation and sometimes it becomes hard for him or her to recover," he explained.
Bugando Referral Hospital (Catholic Bishops owned Hospital) in collaboration with the Government's Department of Medicine has set long-term plan to tackle non-communicable diseases while offering free screening for ailments such as kidney and heart problems as well as other ailments.
By: Pascal Mwanache