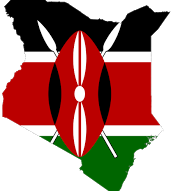 KENYA: Government Declares Drought a National Disaster
Uncategorized
February 17, 2017,
The Government has finally declared the current drought affecting 23 arid and semi-arid counties and pockets of other areas a National Disaster.
Speaking after being briefed on the situation on the ground by Cabinet Secretaries involved in drought management and food security at state House Nairobi, last week President Uhuru Kenyatta called on all stakeholders to support the Government by upscaling drought mitigation programmes.
The Government declaration comes as a response to the Catholic Bishops' appealed, last week, to the Government to declare the current drought a national disaster in order to beckon the International Community to step forward and support the many Kenyans who are suffering from this predicament.
The Bishops appeal was made after having closely monitored the drought situation in the Country after having received reports from the Dioceses and Parishes, which indicated tales of suffering, desperation, hopelessness and in some cases imminent loss of lives.
President Uhuru Kenyatta also called on the local and international partners to come in and support the Government's efforts to contain the situation, which has not only affected human being and livestock but also the wild animals.
The President at the same time gave a stern warning to all who are involved in food distribution that the Government would take serious measures on those who would try take advantage of the situation to enrich themselves and wanted that all purchases of food and other requirements be done in a transparent and open manner and that all government agencies be involved to ensure Kenyans are not defrauded.