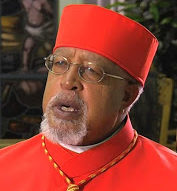 ETHIOPIA: Cardinal Berhaneyesus Concerned by Loss of Lives in the Country due to Car accidents
Uncategorized
February 17, 2017,
The Metropolitan Archbishop of Addis Ababa and President of Catholic Bishops' Conference of Ethiopia (CBCE) H.E. Berhaneyesus D. Cardinal Souraphiel, C.M., has expressed his concerns by the number of car accidents happening in the country that claim many lives as he appealed to the Faithful to make special Prayer intention during the coming Lenten season.
The Cardinal said this in his message to the faithful on the occasion of the beginning of Lent. According to the Ethiopian Christian Tradition lent, this year begins on February 20th.  He said that car accidents are becoming main cause of losing lives in Ethiopia.
"These accidents disrupt the lives of many families as the breadwinner of a family are injured or pass away, properties damaged and lost, let us also pray during this Lenten season so that car accidents may decrease; and Let us pray for the souls of those who have lost their lives in the accidents," he said.
He asked all to recall on Our Lord's teaching "And he said unto them, this kind can come forth by nothing, but by prayer and fasting" (Mk 9:29) and pray and fast to receive all of God's blessings for all families, for the sick and for the less fortunate.
On Lenten season Cardinal Berhaneyesus said that, lent is a period for Christians to reflect on the lessons we have learnt from Our Lord Jesus Christ and practice them on our day-to-day lives. 
"Lent is a period when we should fast and pray leaving aside our worldly desires, we fast because of the love we have for God and during this time we should strongly ask for His Mercy saying Oh God forgive us! At the same time we should make ourselves ready to accept His mercy," said His Eminence.
He also said that the faithful should make this period an opportunity to make themselves ready for the Ministries entrusted to all in the Gospel, strengthen their faith through spiritual welfare and remember the needy and the less fortunate.